DXPocket™ is a fast, stable, and easy-to-use DX Cluster program for Android-powered smartphones and devices.
DXPocket monitors the DX Spots and Announcements available on the Internet at the
DX Summit
web site and presents the information in a sortable grid format.
With a few taps, you can find a required station in the Cluster, obtain DXCC information of selected DX, send DX Spot or Announcement.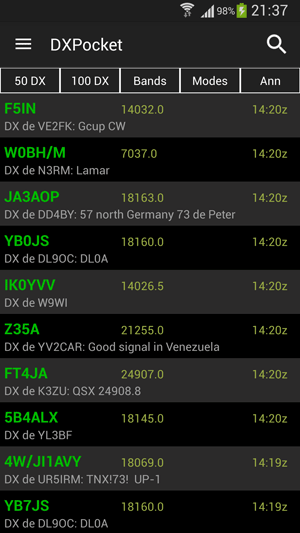 Current version: 4.0
Size of a file APK: 974 KB
Date Published: June 22, 2018
Platform: Android 3.0 and later
Permissions: Internet Connection, Storage

For Android versions less than 3.0, the previous DXPocket application is still
available for download
.
With a single click, DXPocket allows you to retrieve 50, 100 DX spots, bands, modes, filtered spots, and announcements.
Retrieved lists of the DX spots and announcements can easily be saved for future reference and use. DXPocket provides the ability to send DX spots and Announcements to the DX Summit site directly.


More software on this site:

ADIF Master

DXSpotter